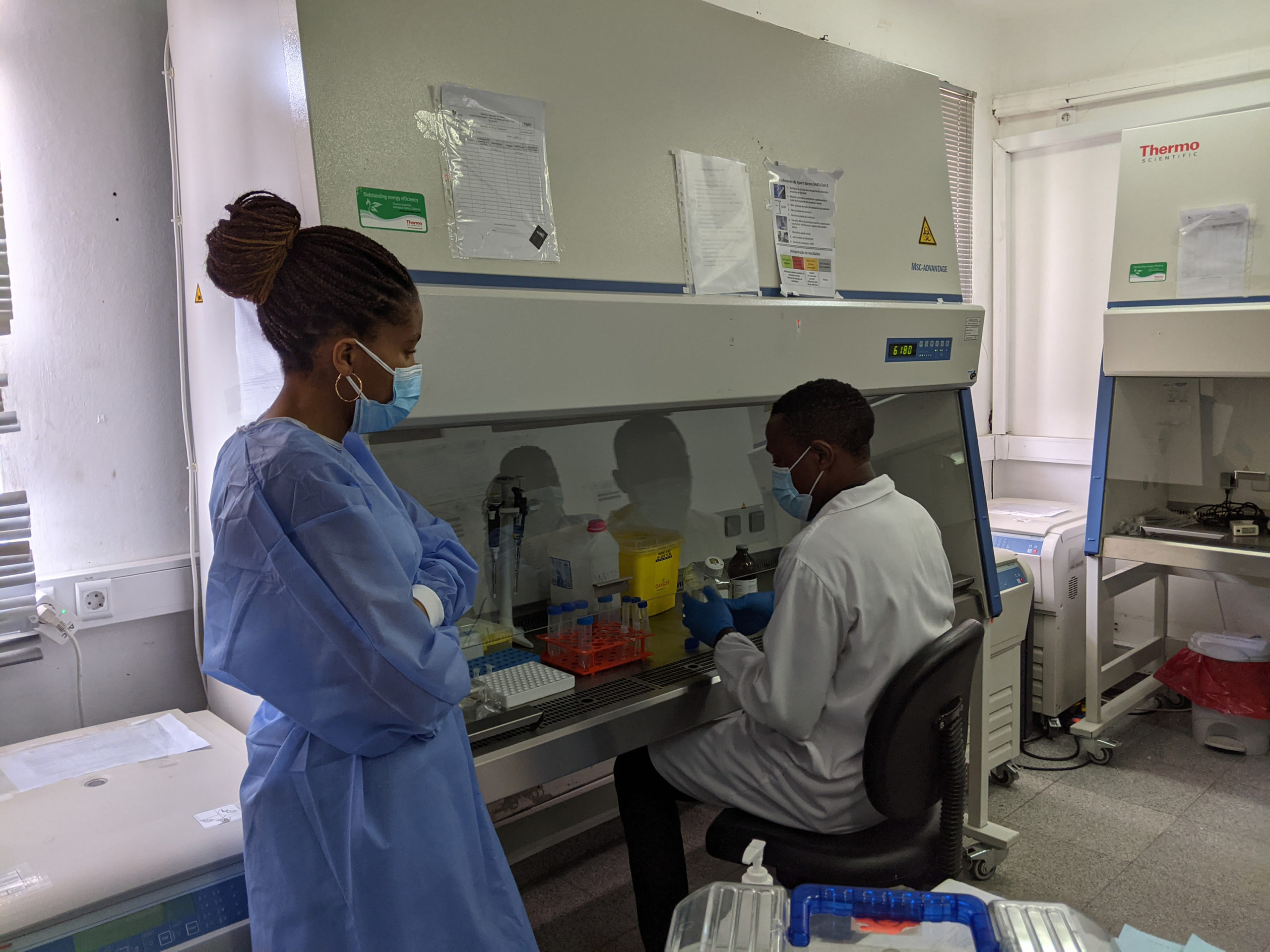 29 Jul

Recruitment begins in Mozambique for ANTICOV clinical trial of early treatments for COVID-19
The availability of drugs to prevent mass hospitalisation is a priority for Africa
This story was published by ISGlobal on 27 July 2021 and is available in English, Spanish, and Catalan.
The two centres in Mozambique that ISGlobal is working with on the large-scale ANTICOV clinical trial have started recruiting participants, following in the footsteps of the Democratic Republic of the Congo, Ghana, Guinea, Kenya, and Mali. The aim of the trial, which is being conducted in 13 African countries, is to find an effective treatment to prevent progression of mild or moderate COVID-19 to severe disease.
ANTICOV will test different treatments. One of them is a combination of nitazoxanide, a well-known anti-parasitic drug that would be administered for its potential antiviral effect, and ciclesonide, an inhaled corticosteroid with an anti-inflammatory effect. Both drugs are already commercially available, affordable, safe, and easy to administer.
The Manhiça Health Research Centre (CISM) and the Polana Caniço Health Research and Training Centre (CISPOC), which is affiliated with Mozambique's National Institute of Health, are ramping up their recruitment processes as the incidence of COVID-19 increases rapidly across Mozambique.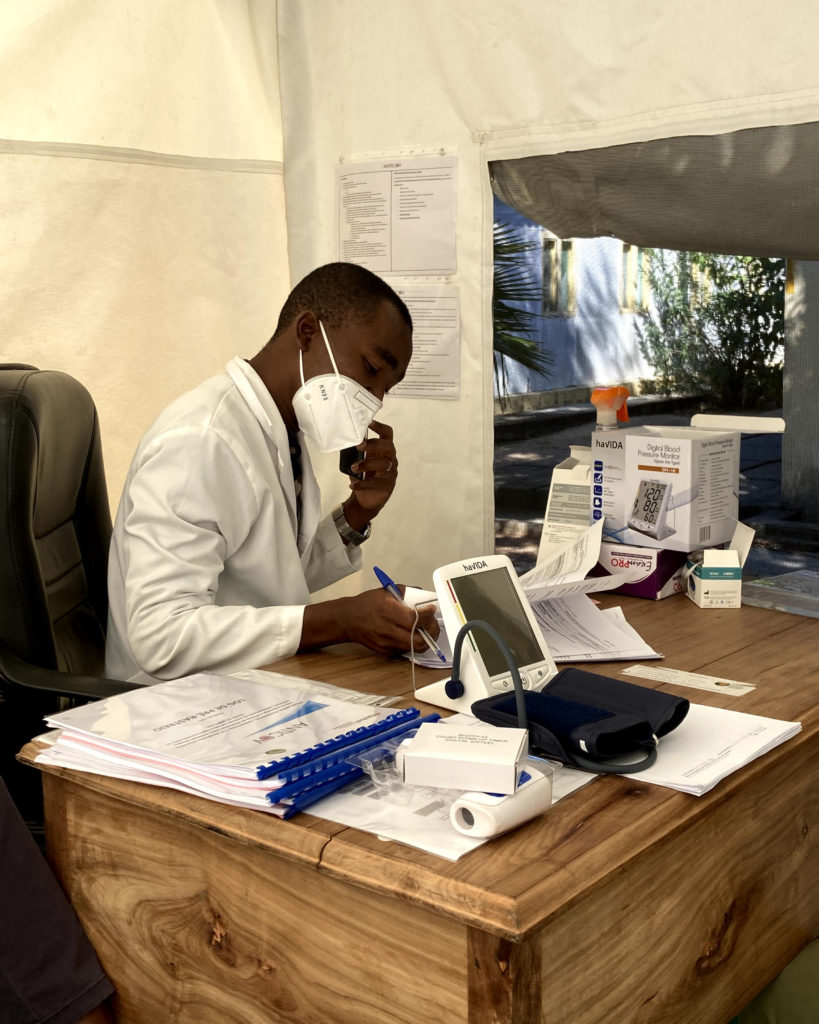 'We are at the peak of COVID-19, with two main hotspots, one in the capital city of Maputo and the other in the north-western province of Tete,' explained Patricia Pérez, Paediatrician and Coordinator of ANTICOV in Mozambique. The predominant viral variant is now Delta, although the South African variant also continues to circulate. Meanwhile, just 1% of Mozambique's population is fully vaccinated. 'With more than 1,000 new cases and 15-20 deaths each day, diagnostic services are starting to be overloaded, hospital beds for COVID-19 patients are running out and oxygen supplies are becoming scarce,' Pérez continued.
It is important to remember that the intensive care infrastructure is limited in Africa and that the continent's health systems are weak and already under pressure due to other infectious diseases. 'In addition, physical isolation and quarantines are practically impossible,' added Elisa López, ANTICOV's Co-Principal Investigator in Mozambique.
After Mozambique, the project is preparing to start recruiting soon in Côte d'Ivoire, Ethiopia, and Burkina Faso. 'Altogether, across all of the countries, we expect to have 300 participants by the end of August and we hope to announce the initial results of the trial at that time,' commented Laura de la Fuente, Project Manager for ANTICOV in Mozambique.
In the coming days, recruitment will also begin in Mozambique for an immunological trial—one of ANTICOV's two ancillary studies—that ISGlobal is co-leading with Belgium's Institute of Tropical Medicine Antwerp (ITM). This study will be conducted in six countries and aims to analyse whether the treatments tested in the clinical trial in patients with mild or moderate COVID-19 alter the strength and duration of the immune response to SARS-CoV-2. 'Knowing how long immunity lasts is especially important in Africa, where vaccination levels are very low,' commented Gemma Moncunill, an immunologist at ISGlobal and Scientific Coordinator of the study.
26-Member Consortium
ANTICOV is a consortium of 26 prominent research and development organisations, including ISGlobal, a centre supported by the "la Caixa" Foundation. The project is coordinated by the Drugs for Neglected Diseases initiative (DNDi). ANTICOV is a flexible and innovative "adaptive platform trial" that allows treatments to be added or removed from the study as more knowledge is gained about them.
Information for the selection of drugs to test in the ANTICOV trial is obtained from reviews conducted by the Access to COVID-19 Tools Accelerator (ACT-A) Therapeutics Partnership, which is co-convened by Unitaid and the Wellcome Trust.
Major funding for the ANTICOV consortium is provided by the global health agency Unitaid as part of ACT-A and by the German Federal Ministry of Education and Research through KfW. It is also supported by the European & Developing Countries Clinical Trials Partnership (EDCTP), the Starr International Foundation, and the Stavros Niarchos Foundation (SNF).
Photo credits: Gemma Moncunill / ISGlobal, CISM / ISGlobal