18 Jun

A few moments with an ANTICOV investigator: Dr Bernhards Ogutu in Kenya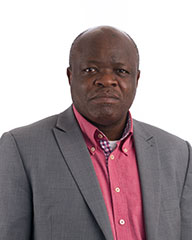 On Friday 18 June, the first Kenyan patient was enrolled in the ANTICOV clinical trial. Kenya is the 5th country after the Republic of Guinea, the Democratic Republic of Congo, Mali and Ghana to start this large pan-African, collaborative scientific study whose objective is to identify treatments for mild to moderate cases of COVID-19.
The Principal Investigator supervising the trial in Kenya is Dr Bernhards Ogutu. He is a trained paediatrician, clinical pharmacologist, Chief Research Officer at the Kenya Medical Research Institute (KEMRI) and Director of the Centre for Research in Therapeutic Sciences (CREATES) at Strathmore University, Nairobi.
Dr Ogutu, how is the COVID-19 situation in Kenya today?
I am worried. Hospitals have been observing more admissions than previously, with a number of people with severe disease coming in. The test positivity rate still remains high and is averaging 10%. But schools and parts of the economy have reopened, and we don't know how the situation will pan out.
Despite this worrying trend, it is still difficult to convince people to adopt appropriate precautionary measures. Initially, when the first wave hit, people were a bit scared, and they listened when the first prevention measures were put in place. But now, some people feel they are safe since a few have been vaccinated; other still believe that only urban areas are affected and they are not at risk in rural areas – which is not true.
The vaccination situation is not good: we have only limited doses and the supplies are not forthcoming. We need much more.
We need to continue looking for other health tools, in particular treatments to cure patients already infected with COVID-19.
This is why the ANTICOV clinical trial is so important.
Could you explain your role in the trial?
I am leading the ANTICOV study in Kenya. I need to ensure all the stakeholders are engaged and that all the questions the communities might have are answered. It is very important to explain to the public why we need ANTICOV right now, even though vaccines are coming.
ANTICOV researchers are focusing their efforts on mild to moderate cases, to find treatments that could prevent them from becoming severe. This is closer to prevention, because treating mild cases early can be much cheaper and effective than treating severe cases later. And it could save lives, especially in environments with limited ICU capacities.
'A positive or a negative result from the trial will go a long way in shaping the policies of how COVID-19 is managed on the continent.'

DR BERNHARDS OGUTU
What are your expectations for the ANTICOV trial?
There are many, but the main one is that ANTICOV will generate data to inform national guidelines. I sit on the National Task Force for COVID-19, and we are looking at a number of ways to treat patients. Unfortunately, we have no clear data on what treatment works for mild to moderate cases.
That is why we need to generate this data to inform the governments and the Ministries of Health on what really works and what does not, so they can make the appropriate decisions and adopt the right guidelines for their populations.
This is critical. A positive or a negative result from the trial will go a long way in shaping the policies of how COVID-19 is managed on the continent.
What will you do to gain trust with communities?
We are maintaining close contact with the communities especially in the region where the study is being carried out. We have been discussing the study with community leaders and we are ready. We also share transparently with the media all the information about ANTICOV to prevent any negative reaction. We have been explaining that we need to generate scientific data to know what drugs work for us, and that we do this for the public good.
People are more receptive because everybody knows somebody who suffered or died from COVID-19. A few sceptics still remain, but the majority are ready to listen. We had a number of appearances with media and televisions, some people wrote opeds, to make sure the communities understand the disease.
We will also explain to each participating patient to the trial that we are looking for a treatment that is tailored to their needs and that will work in their communities. It is crucial to detail the rigorous system that has been put in place to review the results and to ensure that the research we do is ethical, appropriate, and done well. This robust system of review and evaluation ensures that no one can do anything that would harm the population.
I think such sustained and positive communication is going to be key to build and maintain the trust of communities.
Any last words?
First, I would like to highlight the fact that this is the first time we are using an adaptive design as a platform for a large-scale clinical study in Kenya. Analysing the outcomes will be very interesting to evaluate how this new type of study design can be useful and can accelerate the development of knowledge. If it goes well, the findings of ANTICOV will be a very important milestone in the framework of clinical trials and in managing future pandemics.
Finally, this study shows that even in a pandemic, the global community can come together at short notice, set up a platform in a framework that is cost-effective, and develop and evaluate medicines for a new disease, in less than a year. This could create a new way of looking at how we can develop medicines for these urgent situations.
Photo credit: KEMRI, DNDi